Master's in Global Education and TESOL
Why the Master's in Global Education and TESOL Program at Providence College?
The Providence College Master of Arts in Global Education & TESOL (Teaching English to Speakers of Other Languages) program is designed to prepare students for careers as study abroad practitioners, TESOL instructors, language program coordinators, diversity officers, community education specialists, program designers, international student coordinators, and other administrative roles in the growing fields of TESOL and international education. The blended program features an inquiry-based curriculum that supports experiential learning, engaged research, reflection, and application. This program follows the TESOL International Association Standards for Initial TESOL Pre-K–12 Teacher Preparation Programs.
Request Information
(opens in a new tab)
What you'll study
The program consists of 30 credits and is designed to be completed in one calendar year. However, students have up to five years to finish. The program is organized in the following thematic modules:
global education, citizenship and social change;
bilingualism and foundations of TESOL: theory and praxis; and
global mobility, institutional policy, and the commodification of international education.
Selected Courses
Global Education: Theory, Practice, and Policy
Language, Literacy and Culture
English Applied Linguistics
Global Education, Citizenship, and Social Change
English Language Teaching in Practice
Foundations of Bilingual Education
Capstone Seminar in Global Education and TESOL
Nuria Alonso García – Professor & Program Director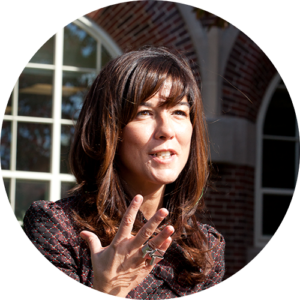 About the Director: Nuria is a civically engaged educator and strives to develop through her scholarship a more profound understanding and praxis of how language, identity, and cultural constructs intersect, how culturally responsive practices promote inclusivity in learning, and how community engagement and experiential learning support an ecology of education across borders and fosters reciprocal partnerships. Nuria has led community engagement projects in Argentina, Ecuador, Mexico, and Nicaragua and collaborated with learners and scholars from Russia during her Fulbright appointment at the Saint Petersburg State Polytechnical University Institute of Humanities, where she remains a visiting professor.
Contact Information
Program Objectives
Develop an understanding of the multifaceted nature of global education, the intersecting systems behind it, and the role of global education practitioners in higher education internationalization;
Acquire a broad understanding of educational institutions nationally and internationally, their policies and programs;
Explore theories, policies and practices of bilingual education and bilingualism, and foster cross- cultural awareness and cultural competency;
Connect theory and praxis in the area of Teaching English to Speakers of Other Languages, and evaluate the use and management of learning resources, including ICT (Information and Communication Technologies);
Critically examine research presented in the TESOL and international education media, and participate in research-based efforts to improve global education.